Holidays in Alentejo - Rural Tourism
Take advantage of the suggestions of the inheritance of the mine and continue for a few days of escape. In the heart of Serra do Cercal, let yourself be carried away by nature and follow our suggestions for a few days that you will not want to reach the end ...
Horseback riding or trekking to the beach or through the estate's forest, a surf lesson or a dip in the pool, relaxing, catching up on reading or even dating in one of the many corners of the estate, while waiting for the long-awaited moment of culinary conversation where Alfredo shares some of the secrets of maAtinha's cuisine.
The culinary gathering
Unique and very special moment in mAtinha ... At the sound of Mónica's jazz selection, accompanied by a good wine, we feel like home with friends. Ideas are exchanged, experiences are shared, flavors are discovered ...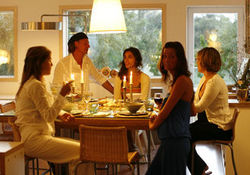 The tours
Horseback riding or trekking is available inside or outside the estate. The most fearless can venture on the route between Herdade da Matinha and Aivados beach (about 8km). The less adventurous can walk the marked trails between the estate and the village or just get to know the forest of the estate in depth.